Post by Admin on Mar 5, 2023 11:29:56 GMT -4
BTS' J-Hope Releases Final Single 'On The Street', Featuring J. Cole, Before Military Service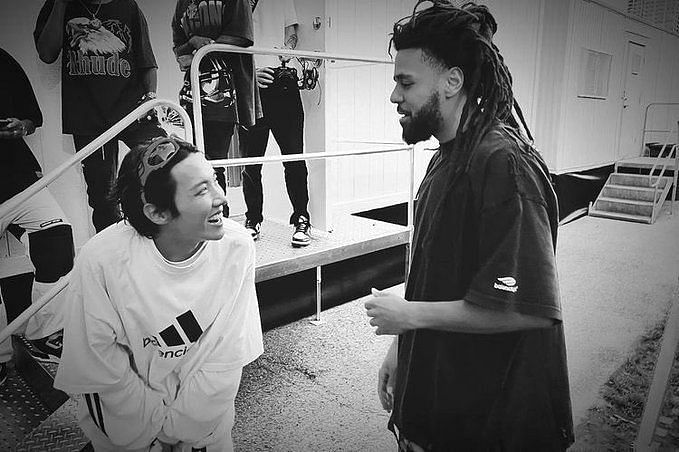 BTS' J-Hope has just dropped a dream collaboration with his childhood idol.
The 29-year-old musician, who is one of seven members of Korean phenom BTS, announced on Thursday that his final single before he departs for mandatory military service will feature legendary rapper J. Cole, 38.
The track, titled "On the Street", takes a trip down memory lane to J-Hope's roots as a street dancer. The song title itself references the dance show "Hope On The Street", created by the rapper in 2015, in which he would film himself performing several solo hip hop dances, sometimes alongside guests.
The new track finds J-Hope feeling hopeful for the future and grateful for his fans. "For the path I'm on to become one of hope, I give my all," he insists over a strummed guitar melody and the track's infectious whistle motif. "Even my walk was made of your love and your faith/ To repay you even from afar, just like a butterfly."
J-Hope teased the full-circle collaboration earlier this week, posting a series of photos of himself with the caption "on the street," plus a clip from what appears to be an accompanying music video for the track.
J-Hope, whose real name is Jung Ho-seok, has been a longtime fan of J. Cole and even dubbed the "4 Your Eyez Only" rapper as his musical inspiration on a number of occasions. While recently promoting his Disney Plus documentary "j-hope IN THE BOX", the BTS member shared that J. Cole was the "artist that made me dream of becoming a singer."
J-Hope even referenced two of the hip hop artist's most iconic albums in BTS' 2014 track "Hip-Hop Phile", an ode to all the artists who inspired the band.
In the song, J-Hope sings: "Hope hope world, before I built my own world, there was Cole World. Ever since he shone on Friday nights, I got inspiration and wrote my songs."
In July 2022, the Korean dance and rap star finally got to meet J. Cole at Lollapalooza in Chicago where they both headlined. At the festival, J-Hope called the rapper and record producer his "muse" and noted that, growing up, Friday Night Lights and the song "Higher" were his favorite.
"On the Street (with J. Cole)" dropped Friday before J-Hope temporarily says goodbye and leaves for the military, likely in the upcoming months. He is the second BTS member to enlist following the group's oldest member Jin, who said his goodbyes in December. Conscription occurs for 18-22 months.
Amid each BTS member slowly leaving for the army, the band has assured fans that they will reunite as a group by 2025. In the meantime, they continue to focus on solo projects.