Post by Admin on Aug 12, 2018 9:51:36 GMT -4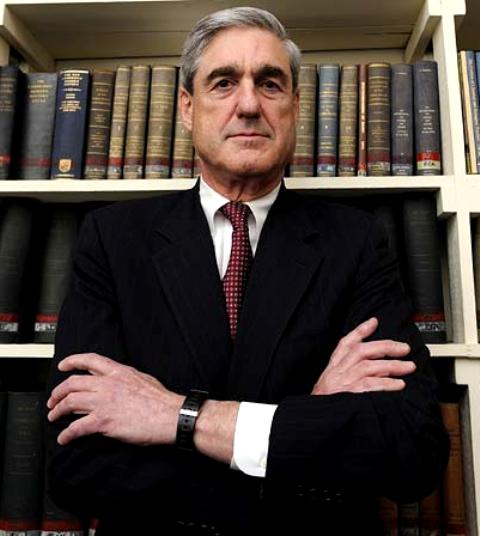 Robert Mueller
AMERICAN LAW ENFORCEMENT OFFICIAL
WRITTEN BY: The Editors of Encyclopaedia Britannica
Alternative Title: Robert Swan Mueller III
Robert Mueller, in full Robert Swan Mueller III, (born August 7, 1944, New York, New York, U.S.), American law enforcement official who served as director of the Federal Bureau of Investigation (FBI) from 2001 to 2013. In 2017 he was appointed special counsel to a Department of Justice investigation into possible Russian interference in the U.S. presidential election of 2016.
Early Life
Mueller was born in New York City and raised in Philadelphia. After attending St. Paul's, a private school in Concord, New Hampshire, Mueller studied at Princeton University (B.A., 1966). He served as a marine corps officer for three years, including one year in Vietnam, and was awarded the Bronze Star, the Purple Heart, and the Vietnamese Cross of Gallantry. He next pursued a master's degree in international studies from New York University and earned his law degree from the University of Virginia School of Law.
Legal Career And Director Of The FBI
Though Mueller had worked in private law practices in San Francisco, Boston, and Washington, D.C., he left each position for work in public law enforcement. As the assistant attorney general for the criminal division of the Department of Justice (1990–93), he led the prosecution of the men held responsible for the December 1988 bombing of Pan Am Flight 103. Among his various other appointments, he served as U.S. attorney in two regions: the District of Massachusetts (Boston, 1986–87) and the Northern District of California (San Francisco, 1998–2001). In San Francisco Mueller improved performance by reassigning supervisors, implementing tough new rules, and emphasizing productivity. Despite the fact that he sometimes stepped on toes, California's leading politicians were impressed.
In his years investigating everything from street-corner crimes to terrorist bombings and bank fraud, Mueller established himself as a top-notch law enforcer who emphasized the government's responsibility "to protect its citizens from criminal harm within the framework of the Constitution." His achievements culminated in his appointment, in September 2001, as director of the FBI. Just one week later, Mueller was catapulted to the centre of international affairs following the September 11 terrorist attacks.
Mueller was confronted with the task of assigning some 4,000 FBI agents to pursue thousands of leads and gather intelligence relating to the activities and identities of the perpetrators behind the attacks. In the wake of the national crisis, Mueller sent agents to at least 30 countries. Later in September 2001, fears of terrorism were further stoked by a series of anthrax-filled letters sent to American media outlets and to two U.S. senators. Mueller was asked by the White House to find out if there was a link between the anthrax and al-Qaeda, the militant Islamist organization responsible for the September 11 attacks, but FBI investigators ruled out that possibility.
In 2002 Mueller announced that the FBI would be shifting its focus from combating crime to countering terrorism. This change in course was in part a response to accusations of the FBI's mishandling of crucial intelligence prior to the September 11 attacks. In the following years, the FBI and the Central Intelligence Agency (CIA), as well as detractors of both, continued to spar over issues related to terrorism and domestic security and over whether the events of September 11 could have been prevented.
In 2004, after a warrantless wiretapping program that had been authorized by the White House after the 2001 attacks was declared illegal by the Justice Department, Mueller joined with Attorney General John Ashcroft and several other Justice Department officials in threatening to resign if attempts by White House counsel Alberto Gonzales to overturn the ruling were successful. The situation was defused when Pres. George W. Bush overruled Gonzales.
Mueller was set to step down as FBI director in August 2011 as required by a law that set a 10-year term limit for the position. In July, however, Congress approved a bill, which was subsequently signed by Pres. Barack Obama, that allowed Mueller to serve for another two years. Later that month he was unanimously confirmed by the Senate for the additional term. He left office in September 2013 and was succeeded by James B. Comey.
Later Work And Russia Investigation
In 2014 the National Football League (NFL) asked Mueller to investigate its much-criticized handling of a domestic abuse incident involving Ray Rice of the Baltimore Ravens. In the final report, he notably concluded that the NFL had not seen the surveillance-video footage of Rice punching his then fiancée prior to initially suspending him for only two games. However, Mueller did find that the league had failed to thoroughly investigate the incident.
In May 2017 Mueller was appointed special counsel to oversee the Department of Justice's investigation into whether Russia had influenced the U.S. presidential election of 2016—in which Republican Donald Trump defeated Democrat Hillary Clinton—and whether Russian officials had colluded with members of Trump's campaign. In October Paul Manafort, Trump's former campaign manager, was indicted on various charges, including money laundering and conspiracy against the United States. Two months later Michael Flynn, who had briefly served as Trump's national security adviser, pleaded guilty to making false statements to the FBI about his interactions with the Russian ambassador. According to reports, as part of the plea deal, Flynn agreed to cooperate with Mueller's investigation. In February 2018 Mueller indicted 13 Russian nationals and 3 Russian organizations for election interference, alleging that they used "information warfare" to aid Trump's candidacy. The various charges included conspiracy to defraud the United States. Notable subsequent developments included the indictment of 12 Russian intelligence officers in July 2018. The men were accused of hacking computer networks and e-mail accounts of Democrats, including those involved in Clinton's campaign.
The Editors of Encyclopaedia Britannica